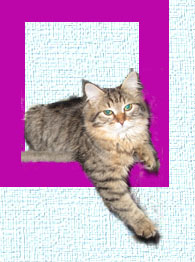 Fin*Igora cattery Siberian cats from Eastern Finland
Igora Olimpiada is black smoke lady with a hint of red and white in her fur, a dark daughter of Igora Ksenia ja Amante's Hip Hop.

Pedigree


Igora Ofelia is the fair sister of Olimpiada.

Pedigree


Igora Neonilla is a blue daughter of Igora Lidia and Igora Kliment.